Hi everyone. My name is Michelle Pairitz, and like many of you, I am currently acting as principal, administrator and home-school teacher to my four daughters (8th, 7th, 5th and 4th grade.) But up until a few weeks ago, my main credentials were being a twenty-year veteran of the staffing industry and the majority owner of smartdept. inc.
It's difficult to craft a meaningful message that isn't somehow related to COVID-19 or a Stay at Home order right now. So, to each of you taking the time to read this, I appreciate your time and hope you and your loved ones are safe. And before I get to the good news portion of this post, does anyone remember how to divide fractions? Asking for a friend.
Okay, onto some good news about smartdept. inc. Because we could all use a little right now!
Earlier this year, I was encouraged by one of our largest clients to apply for certification as a Women's Business Enterprise. This certification affirms that smartdept. inc. is an organization owned and entirely operated by a woman and earning this certification would prove to be no small task. After filling out the initial application, I had the next three months to provide all critical information to tell the story of how smartdept. inc. came to be. This trip down memory lane (and into some very dusty flat files) included everything from sharing our latest financials, contracts with my stamp of approval, rental agreement and equipment lists, to rediscovering the corporate documents we created nearly two decades ago. And everything in between. In addition, I was quizzed on every aspect of our creative staffing business. The goal was to prove, beyond a shadow of a doubt, that I was in control of every process vital to successfully operating the company.
On the day of my site visit, I was asked to connect all the dots. What was my inspiration for starting the company? What was a typical day and week at smartdept. inc.? How had I helped push the organization forward? How exactly did I get from a two-person staffing company in Seattle in 2002, to a staffing company spanning nationally with thousands of placements?  The conversation was long, but reflective. And it gave me the chance to think honestly about my journey as a business owner and appreciate how my organization, with the help of so many along the way, has been able to achieve some very unique goals.
As a woman in recruiting:
When I started this company at 27, I looked and sounded young for my age. (Oh, the good old days!) But I remember struggling to overcome doubters and naysayers – both women and men. And I vowed I would not treat others that way. I earned respect, I gave respect and I lifted others up every chance I got. At smartdept, our culture is based on encouragement and kindness. What we do is more than just recruiting, it's creating an environment of confidence and support for our clients, candidates and each other.
As a mom:
When I began, I was part ignorant and part fearless, and I am proud of it all. I want my girls to have the same confidence and be fearless in making something happen. It doesn't have to be big, it doesn't have to be a company, but I want them to know that anything is possible.
As a business owner:
Some of our biggest clients were my candidates just starting their careers 18 years ago. Long-standing relationships and treating people with respect means everything to me, and to us. We are all humans, and it's important to really get to know people beyond what position they're looking for or looking to fill.  We take the time to do that, so each person could potentially work with us for the next 18 years whether they are a client or candidate.
I am proud to report that on Thursday, March 19th, 2020 (at 3pm CDT), smartdept. inc. received its Women's Business Enterprise certification! It represents so much, and to receive it during Women's History month made me even prouder.
So, thank you to all who have played a part in our growth and this milestone achievement.
It's a little something that allows me to pause, to celebrate how far we've come, and have hope for better days ahead.
Be safe, be well and best of luck with all the math homework.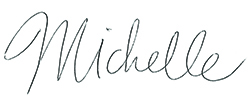 Love, Michelle