Did I ever tell you about the time I played softball against World-renowned Illustrator, Regan Dunnick? It was late August 1990, and I had just been dropped off at the Ringling School of Art and Design for my freshman year to study graphic design. My father is a 40-year veteran of the fire service and parent to six kids, of which I was the last. So, for me, being dropped off at college was something akin to being thrown out of a moving car at the front gate of the school. You know. Don't call us…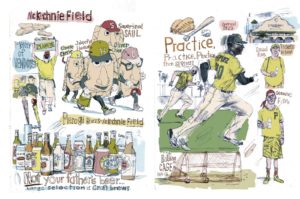 One of the activities mixed in with trust falls and meet your R.A., which are devised to ease a new student into life on campus, was the faculty/student softball game. Even though this was an Art School with a total student body of 600 (at the time), I could see immediately that there was a sense of pride among the faculty about this game. I imagined that they had done this for many years before I arrived, and being that the incoming freshman were all "artists," the faculty had expected, like usual, to win going away. The clear but unspoken leader of the faculty team was Regan Dunnick.
I liked Regan right away. Honestly, I had no idea that this guy standing on the opposite side of the diamond, representing the Illustration Department for the faculty team, was an internationally known illustrator. Nor did I know that his works are in the permanent collection of the Library of Congress. What is unique about him as an instructor and a creative professional is his ability to asked for (and receive) your respect while continuously putting you at ease with his unique brand of humor. Best of all, he is as comfortable being the butt of the joke as he is its creator.
Off the ball field, Regan has been selected to such major exhibitions as the United Nations Environmental Show, the New Pop Show – which toured Europe and chronicled innovators, American Illustration, and The Hiroshima Memorial Design Show. Additionally, his works appear in several books, he has been the subject of many published articles, and his client list (which includes smartdept. inc.) is too long to get into. On the ball field, he was a fierce competitor. And, on the day of our initial meeting, it was clear that he does not like to lose. A high school teammate of Hall of Fame outfielder, Andre Dawson, he is a lifelong sports fan who loves the Chicago Cubs and Miami Dolphins (clearly, he likes misery).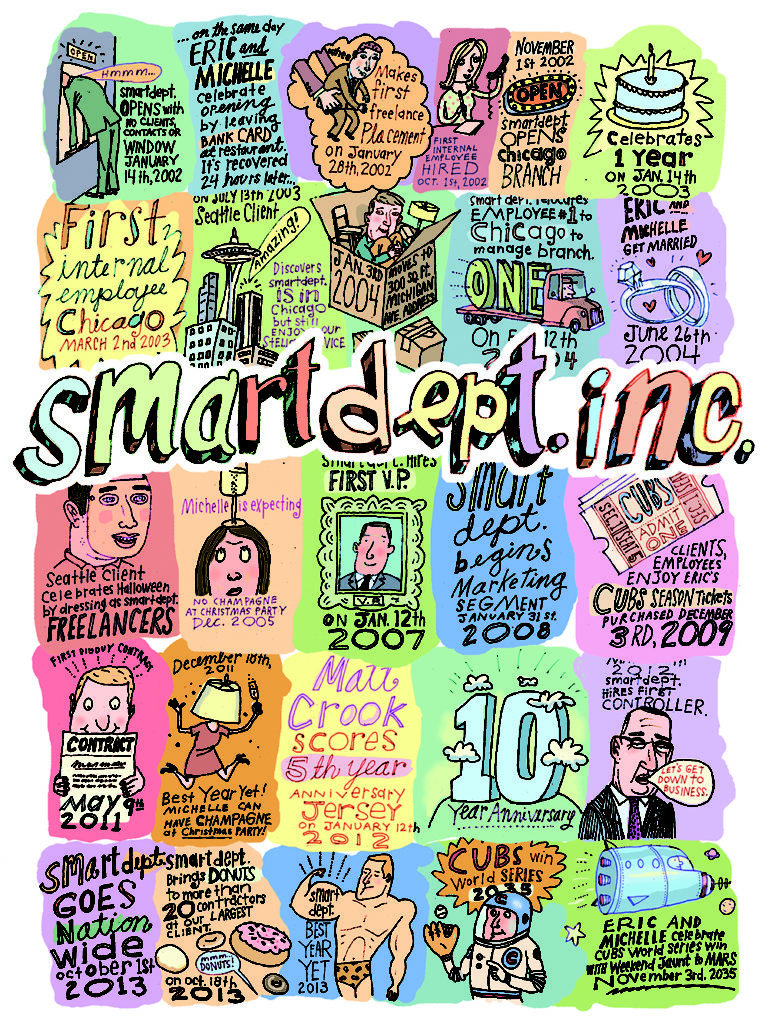 As unaware as I was of his creative accomplishments, Dunnick and his band of faculty softballers had even less information about this incoming class of Art School Freshman. It turns out that our group went against the grain. We were, in fact, loaded with kids who were both artistic and athletic. Several of us played ball in high school and lived for the game. I doubt any of us had the sense to give way to the rag-tag group of middle agers who held our creative futures in their gnarled hands. The details of the actual game are a bit cloudy after 30 years. I do recall that nobody was taking it easy on one another and that there was at least one collision at home plate, we were all filthy by games end and the faculty was quite surprised (and irritated) by its defeat at the hands of its new students.
Sadly, that brief moment, at the very start of my 4 years at what is now called Ringling College of Art, is the only common thread that Regan Dunnick and I shared during my studies. He taught illustration, and I studied Graphic Design. I had studio art classes with some very talented instructors, but he was not one of them. I can only assume that learning illustration from Regan Dunnick would be similar to learning stand-up comedy from Jerry Seinfeld. Maybe you prefer Eddie Murphy? Still, that game, which should have been considered an instant classic (later to air on ESPN), was enough for the two of us to acknowledge each other and exchange pleasantries when passing by on the way to classes on the tiny campus. Years later I would reconnect with my old nemesis when we collaborated on the smartdept. inc. bakers dozen anniversary poster. It was during that project that I learned we shared a common interest in our love for the Cubs and about his annual family visits to IL.  Following that successful venture, we collaborated once again to use his handywork for the smartdept. inc. website. We enjoyed sharing stories about our favorite Cubs moments, talking about family, the Midwest and about his infamous pet bird, Mr. Pickles. After all of his success, he is still unassuming, still warm, and still hilarious. I am proud to have his work represented on our website and to have one of his original works on display in my home.
If you haven't seen the works of Regan Dunnick, I'd recommend you have a look. Just type his name into the Google machine and if you really want to be entertained (and learn more about Mr. Pickles), follow him on Instagram @ibraygunz.
By smartdept. inc. Principal, Eric Pairitz
Header Illustration by Regan Dunnick from my personal collection,  Spring Training Spread, 2016 by Regan Dunnick via his portfolio,  smartdept. inc. poster illustrations by Regan Dunnick, 2014