Every so often, I see the work of an artist that brings on an immediate rush of emotions. For me, it feels like envy, jealousy, happiness, appreciation, and love with a side order of how the hell did they do that and an order of that's awesome to go. A garbage plate of emotions, if you will.
Of course, I get those types of feelings when I go to a museum and view a piece (or a collection) from one of the greats. I am intrigued by the mind of Pablo Picasso and the use of color by Henry Matisse. I love Norman Rockwell because his work is a slice of Americana. These are artists that, as a youth, drew me to have a career in a creative field or, in some way or another, influenced the beginnings of my creative process.
I like these dudes! But, in the end, I can only guess what Picasso was thinking during his Blue Period or read in a book about how Norman Rockwell came to work at the Saturday Evening Post. And, I will have to view it entirely through somebody else's eyes.
More exciting for me is making that same type of connection with artists who are my contemporaries. There is something extra cool about being able to walk right up to Plein Air artist Ethan Jack Harrington (@ejakcity) and talk with him while he pushes around his paint in the middle of a crowded Seattle street. Or, as I recently wrote about, talking Chicago Cubs Baseball with the likes of Regan Dunnick (@ibraygunz).
Another, on my very short list of inspiring artists that I have the pleasure of knowing and whose work I am privileged enough to have hanging in my collection, is my Ringling classmate, Phi Delta Theta fraternity brother and friend, Justin Kauffmann.
Justin recently completed a 2-year long journey that resulted in it the completion of his first published book called "Yesterdaze." Though, at its inception, it was meant to be a compilation of witty quips with his art as a backdrop. It evolved into a career retrospective, of sorts, highlighting 25 years of creativity, which began in Atlanta, GA, and landed him in Chicago via New York City.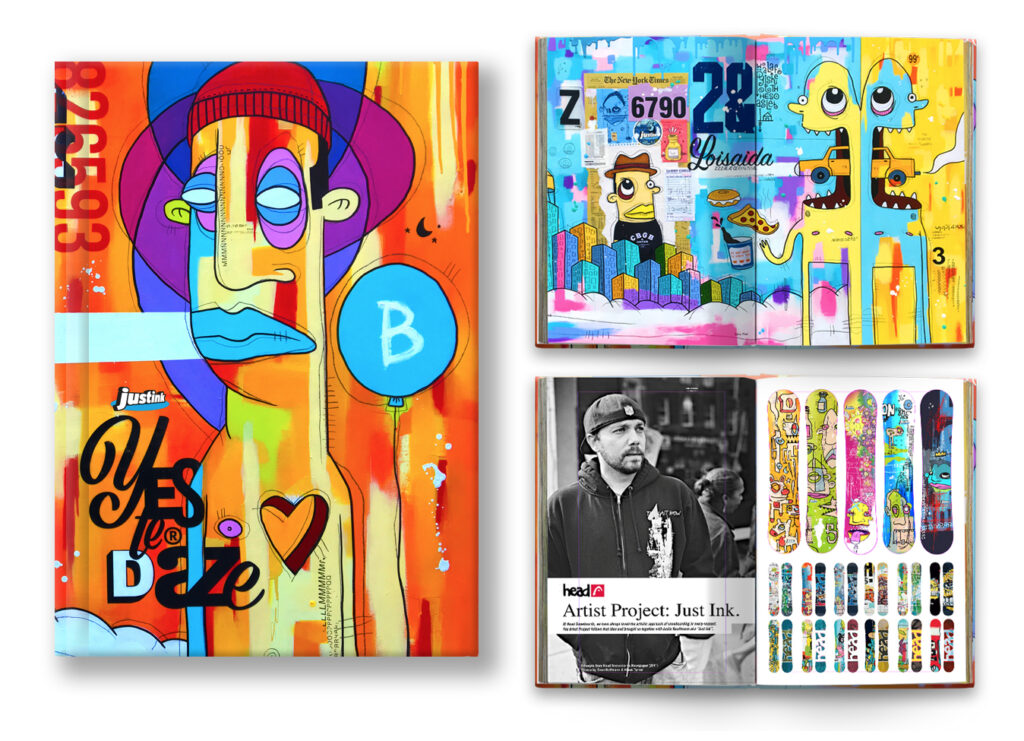 Growing up in Goshen, Indiana, Justin's earliest creative influence was his father, Joel, who was a cartoonist. Joel's influence (and most likely his genetics) are an obvious link to the evolution of his style and what led Justin to attend The Ringling School of Art and Design with the hope of someday working as an animator at Disney.
Post Ringling Justin worked for 12 years as a "9-5 graphic designer", first in Atlanta and then in New York City. Honing his fine art skills after hours, his mixed media work of collage, pencil, paint, and chalk was influenced by the likes of Ray Gun Magazines, David Carson and painter, Phil Frost. One of Justin's proudest moments as an artist happened in 2001 while curating his show in New York. A gentleman approached to compliment him on his work. Serendipitously, the gentleman was none other than David Carson (that's freakin cool). The two hit it off and have worked together on several projects over the years. A few samples of Justin's work even appear in one of Mr. Carson's books.
As for his book, Yesterdaze is a collection of Justin's personal and professional finished work, accompanied by printed articles, thumbnail sketches, and "in action" photos weaved in throughout. Packed with inspiration, my favorite part of this explosion of color and creativity comes near the end of my signed first edition. A piece that I begged Justin to do for me for 10 years called "Take Me Out to the Ball Game" appears along with an original sketch (and a Cubs pencil) in a 2-page spread. "I made it into the book," I shouted upon first seeing the page.
Also worthy of mention, as a designer, Justin has had the opportunity to integrate his fine art into a line of t-shirts working with apparel giant, Quicksilver. Additionally, if you're a fan of winter sports, you may have seen Justin's work while shredding the mountainside. As he worked alongside, Creative Director, Sven Hoffman at Head to create the artwork for their Rocka snowboard line (drop me a line if you have one of those boards).
Justin is currently available for both fine art and graphic design work! If you want to be inspired check him out online at justink.com or follow him on Instagram @justink