It's a combination of nervous energy and excitement. Your stomach hits the giant drop at Six Flags, and your mind is racing, Indy 500 style. You're on the ledge now. Looking over. Your eyes can see for miles and miles, and while your egoic mind is telling you the ground floor is near (and it's gonna hurt when you land), your heart tells you the free fall will be endlessly glorious.
If you want to start your own business, all you've got to do is jump. So… are you going to jump?
Jamie Lovern did!
Jamie is the owner of Lolablue, located in North Port, Florida. Lolablue is an artisan maker of bath, body + beauty goods which (in her own words) are infused with love + positivity to inspire clean + mindful living. Hand-crafted in small batches with only the best ingredients on the planet. Goods to help you live your best life ever.
As an entrepreneur myself, my favorite part of any successful business story is the beginning. What pushed Jamie, an award-winning creative professional with 12 years of experience, to leave her comfortable surroundings at the Sarasota Herald-Tribune and embark on this slippery little journey (soap reference, get it)? I mean, besides infinite amounts of competitive drive, giant wax holding tubs of courage, a sprinkle of curiosity, and a hope to create something better for this planet and the people on it.
Well, ultimately, it was the birth of her son, Dakota. But let me go in reverse for a minute.
All the way back in 2002, Jamie and her husband (and right-hand man at Lolablue) DJ were burning a candle that was leaving a curiously unpleasant pile of soot. Thinking the black flakey powder pile didn't fit with the theme of relaxation associated with burning a candle, they began to do a little digging. It turns out this gathering of amorphous carbon carried along with it potentially cancer-causing carcinogens, too. How's that for romance? Soon after this discovery, Jamie began making her own candles with something better for us all. Soy! At first, she made them for herself, and then for friends, and then for Christmas presents, and then… well you get the point, people like them.
It wasn't long before her one-bedroom apartment was wall to wall candles. I think there's a Kramer from Seinfeld reference in there somewhere. "It's gonna be wall to wall candles, Jerry!" These constant reminders of her candle making addiction and the encouragement of a friend prompted her to visit with a local accountant who pushed her right up the edge of that dusty little cliff by simply asking her, "when are you going to quit your job and make it official?" Nuff said! In 2003 Lolablue was born.
In 2005 her son, Dakota, was born and the kidding around was pretty much over. The name Lolablue is derived from Jamie's love for Barry Manilow and the song Copacabana. Lola was a showgirl, but I cannot confirm or deny that Jamie ever was. Blue is in reference to our giant blue planet, which Jamie and DJ have pledged to take care of by using natural ingredients to make each and every variation of their now line of 10 different products. I have it on good authority the planet earth is, in fact, mostly blue. I also have it on good authority that the birth of her son gave Jamie the final push needed to leave corporate America and focus on her love of Lola fulltime. I wish I could say that they just made candles, and then soap, and everyone just started running towards them, it all erupted into a buying frenzy akin to Luke Perry showing up at the mall, they moved to Hawaii became neighbors with Rosanne Barr and lived happily ever after.
But that's not how it went.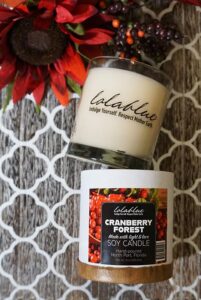 Like many entrepreneurial stories, Jamie and DJ had to rise from the (potentially carcinogen filled) ashes and fight to get where they are today. In 2007 the recession hit. Jamie was staying home to raise Dakota, making candles and spending her weekends traveling to various farmer's markets to sell her products. The couple had invested in a real estate magazine with the hope of making it successful enough to turn a profit and use the money to invest back into Lolablue. But, when the real estate market bottomed out, so did their magazine venture, and like many people during that time, they trudged along for a while. DJ found a succession of opportunities outside of the comfortable wax walls of Lola, but because of the economic state of the world, nothing seemed to stick. With product literally oozing out of their home in the hot Florida sun, Jamie had what she refers to as "the utility sink moment." Doubt was creeping in, and she was coming to the realization that a decision needed to be made about what lies ahead. Does she keep moving forward with Lolablue, or should she get her portfolio and resume up-to-date and use her contacts to get back into the creative workforce? With money running out, and their family's future hanging in the balance (and in the middle of a recession), JAMIE AND DJ WENT ALL IN! They took the little money they had (and probably some that they didn't) and leased warehouse space. The new digs, which they got on the cheap because of said recession, allowed them to store their existing product and gave them the necessary space to make more. "Every time I thought it was over, something popped up that kept us going," Jamie would say. DJ also made a decision. He stopped looking for the next, "get us through," opportunity, and began to focus his full attention on a life of Lolablue Living.
Their courage paid off! The determined couple was able to persevere through the recession and build their business by forming strong local relationships within their North Port community. Soon Lolablue products made their way into local shops, and then on-line. Finally, as their products got more popular, they added a way for their growing fanbase to come in and buy them in person. Lolablue products have been used in swag bags for the Oscars and MTV movie awards and even got a little love from Martha Stewart, herself. In 2020 the couple renewed their "go for it" vows and invested into a brand-new, larger, location with the intention of stomping, full-on, the petal to the metal! I'm sure this will mean more amazing, good for the earth products for all of us to enjoy in the future and perhaps more opportunities to get them.
Truth be told, I chose to write about Jamie (and Lolablue) because we are all about courageous, creative, smart, and talented women who own and operate a business. And, because I know her, I can unequivocally say that all of the mentioned personal attributes are 100% accurate. That said, my favorite part of putting together this blog came when I asked her if she focused on any charitable efforts. Though her answer was not really a surprise. Jamie made full mention of all the people who helped her along the way and makes it part of her mission to pay it forward. She loves to give back to her community and give her creations to literally anyone who walks through her door. For years, they have donated their products! Supporting local schools to promote Teacher Appreciation Day, making an offering to neighborhood daycare, and even routinely dropping product at a North Port area animal hospital. Lolablue has teamed up with Baby Boot Camp (now called Momleta) to give back. And Yup! They even made, bottled and distributed hand sanitizer during the onset on the Coronavirus Pandemic. Jamie let it slip that she could probably put someone to work full-time fulfilling her donation efforts. Hey, give her a call if you want to help her out.
Jamie's advice to current and future entrepreneurs, "Follow your bliss and doors will open that you never knew existed."
Oh, one last thing! Check out Jamie's life's work at lolablueliving.com if you see something you like enter the promo code: smartdept and Jamie will give you 25% off of your purchase. Who knows, maybe she will even throw in a sample of her latest killer soap creation!