In celebration of Hispanic Heritage Month, smartdept. has asked a few of its smarties to share whom it is that they admire from this richly talented and diverse community.
One of our founders, Michelle Pairitz, would like you to know about Judithe Hernández, an artist, educator, muralist, pastel artist, and painter. Judithe is a pioneer of the Chicano Art Movement and a former member of the art collective Los Four. She is based in Los Angeles, CA, and previously lived in Chicago, IL.
Judithe first received acclaim in the 1970s for her mural work. Her artistic practice shifted over time and now is centered on works on paper, principally pastels, which frequently incorporate indigenous imagery and the social-political tension of gender roles.
In 1974, she became the fifth and only woman member of Los Four, the influential and celebrated East Los Angeles Chicano artist collective. Additionally, she was later part of the art collective, Centro de Arte Público. As early as 1970, Hernández was involved in the initial efforts of Chicano artists in East Los Angeles. During a time in which she was the only female at meetings who was not a girlfriend or wife but an active artist participant.
In Michelle's Words…
"I identify with and admire Judithe Hernandez on many levels. I, too, am an Artist who similarly produces large works and expresses my point of view through my work. As a professional, I consider myself a trailblazer, like Judithe. Starting a niched staffing resource more than twenty years ago involved imagination, courage, and a multitude of risks. Still today, smartdept. is one of just a few creative, digital, and marketing-niched staffing resources certified as a women's business enterprise."
Michelle's Pick…
Check out Summer, created by Judithe in 2013 as a portion of the Santa Monica Metro public art project transcultural depictions of sun-related mythology.
Learn more about Judithe Hernández here and here.
Melissa Imbrogno, Senior National Account Manager at smartdept. admires the work of actor, rapper, composer, playwright, and filmmaker Lin-Manuel Miranda. Known for creating the Broadway musicals Hamilton and In the Heights, and the soundtrack of Disney's Encanto, his work has earned him three Tony Awards, three Grammy Awards, two Laurence Olivier Awards, two Primetime Emmy Awards, an Annie Award, a MacArthur Fellowship Award, a Kennedy Center Honor, and a Pulitzer Prize.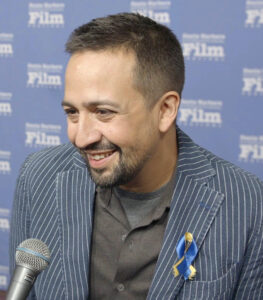 A graduate of Wesleyan University, Miranda made his Broadway debut in the 2008 musical In the Heights, starring, and writing the music and lyrics. A critical and commercial success, In the Heights, won Tony Awards for Best Musical and Best Original Score, and the Grammy Award for Best Musical Theatre Album, and was adapted into a film released in June 2021. Miranda is perhaps most recognized for writing the script, music, and lyrics for the pop culture phenomenon Hamilton in 2015. It earned the Pulitzer Prize for Drama and was nominated for a record 16 Tony Awards, winning eleven.
In Melissa's own words…
"Lin is an amazing writer and performer and has inspired a whole new demographic with his release of Hamilton. He took something that's been the same way since the beginning of time and flipped it on its head. He is a minority, embraces his culture, and has inspired and taught so many."
Melissa's Pick…
Disney's Encanto because the musical style is immediately recognizable and the impression it leaves on you is unforgettable.
Learn more about Lin-Manuel Miranda here and here.
Credits: Judithe Hernández in 2010 via Wikipedia; Miranda in March 2022, via Wikipedia; header photo: crop of Emmy Star Brown painting.