The smarty team continues to celebrate Hispanic Heritage Month with more influential views on Hispanic culture.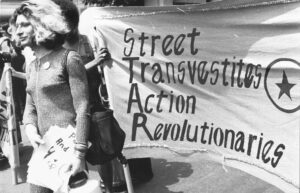 Creative Account Manager, Morgan Gorecki, would like you to take some time to learn about Sylvia Rivera. Born on July 2, 1951, this Latina trailblazer was a Venezuelan-Puerto Rican trans woman who pioneered LGBT activism, fighting for trans rights. Raised in New York City, Sylvia was abandoned by her birth father and became an orphan after her mother died by suicide. Living on the streets before her 11th birthday, Rivera was forced to work as a child prostitute before she was taken in by a local community of drag queens who gave her the name Sylvia. Together she and Marsha P Johnson (who allegedly was the first person who threw a brick in the Stonewall riots) created the "Street Transvestite Action Revolutionaries" (STAR) organization that provided a home for trans people living on the streets in the 1970s in NY as well as offered organizers a space to discuss issues facing the transgender community in NY.
In Morgan's Words…
I admire Sylvia on many levels. As time goes on, the trans community has become more and more accepted, and it is clear the work Sylvia had done in the past was the catalyst to this. She had paved the way for the LGBT community to walk; feeling much more normal than our past histories have depicted. In hindsight, Sylvia has saved so many LGBT lives with her efforts not only at the Stonewall riots, but her legacy lives on as the world continues to move in a more positive direction.
Morgan's Pick…
Check out the book, The Stone Wall Reader, an anthology chronicling the tumultuous fight for LGBTQ rights in the 1960s and the activists who spearheaded it.
Read more about Sylvia Rivera here and here.
Rob Leinheiser, Talent Acquisition Specialist at smartdept., admires the work of Jacob Padrón. This Mexican American is the artistic director of Long Wharf Theatre in New Haven, CT. He is also the Artistic Director of The Sol Project and a co-founder of the Artists' Anti-Racism Coalition. A graduate of Loyola Marymount University where he studied Theatre and Communications, Jacob also attended the Yale School of Drama studying Theatre Management.
Padrón was raised in Gilroy, California. During his youth, he attended a production of "La Virgen del Tepeyac" put on by El Teatro Campesino. He soon joined the company and was a member throughout his teenage years. After graduating college Jacob volunteered with the Jesuit Volunteer Corps, providing support for those living with HIV/AIDS. Before his role at Long Warf Theatre, he worked as an associate producer for the Oregon Shakespeare Festival, a producer at Steppenwolf Theatre Company in Chicago, and a producer for the Center Theatre Group in Los Angeles. Padrón was named "one to watch" by American Theatre Magazine.
In Rob's own words…
"I love the theatre scene in New Haven, where I live, and it has been made even better the last few years with Jacob Padrón's artistic leadership at Long Wharf Theatre. Jacob is a talented producer who has dedicated his work to lift new and exciting voices, reckoning with the legacy of racism in American theatre, and fulfilling Long Wharf's mission statement of creating theatre for everyone."
Rob's Pick…
If you're local to New Haven (and even if you're not, join or support the Long Wharf Theatre because "theatre is for everyone."
Read more about Jacob Padrón here and here.
Credits: Sylvia Rivera with STAR banner by Roseleechs – Own work, CC BY-SA 4.0; header photo: crop of Emmy Star Brown painting.