The smarty team continues to celebrate Hispanic Heritage Month with more influential views on Hispanic culture.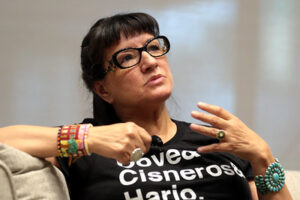 Creative Account Manager, Haley Stowell, enjoys the writing of Sandra Cisneros.  Known for work that experiments with literary forms which investigate emerging subject positions, Cisneros, herself, attributes her style to growing up in a context of cultural hybridity and economic inequality. Sandra is the only daughter in a family of six brothers which often made her feel isolated. Additionally, the constant migration of her family between Mexico and the United States made her feel as though she was always straddling two countries, while never really belonging to either culture. As a result, her work deals with the formation of Chicana identity, exploring the challenges of being caught between Mexican and Anglo-American cultures, facing the misogynist attitudes present in both these cultures, and experiencing poverty.
Cisneros has received numerous awards, including a National Endowment for the Arts Fellowship, and the Ford Foundation Art of Change fellowship in 2017, and is regarded as a key figure in Chicano literature.
In Haley's Words…
"I admire her bold prose which lends itself to exemplifying the stories of Latinx individuals that are truly felt and understood across cultures."
Haley's Pick…
Sandra Cisneros penned one of Haley's favorite books. A coming-of-age story called The House on Mango Street. Check it out!
Read more about Sandra Cisneros here.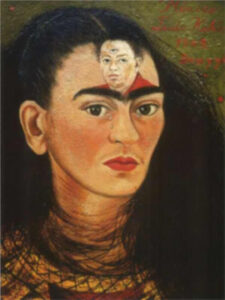 Eryn Briscoe, Talent Acquisition Specialist at smartdept., admires the work of Mexican Painter, Frida Kahlo. Frida is known for her many portraits, self-portraits, and works inspired by the nature and artifacts of Mexico. Born to a German father and a mestiza mother, Kahlo spent most of her childhood and adult life at La Casa Azul, her family home in Cayoacán. Inspired by the country's popular culture, she employed a naïve folk art style to explore questions of identity, postcolonialism, gender, class, and race in Mexican society. Often mixing strong autobiographical elements and mixed realism with fantasy. Kahlo has been described as both a surrealist and a magical realist.
Kahlo is known for painting her experience with chronic pain. She contracted polio as a child and was injured in a bus accident at the age of 18, which caused her lifelong pain and medical problems. It was then she returned to her childhood interest in art.
In Eryn's own words…
"I think I admire Frida because of her exclamation, I paint the flowers so they will not die. I love that philosophy! Seeing art as a way to own the unknownable, to protect the things and people you love against the cruelty of time. Also, the fact that she's a woman of color in a patriarchal society, is very impactful."
Eryn's Pick…
Check out, Diego and I. In this painting, Frida's great anguish over Diego Rivera is revealed after his affair with Maria Felix nearly resulted in their divorce.
Read more about Frida Kahlo here.
Credits: "Sandra Cisneros" by Gage Skidmore is licensed under CC BY-SA 2.0. Photograph of Frida Kahlo's 1949 oil painting Diego And I via Wikipedia. Header photo: crop of Emmy Star Brown painting.