From the desk of Chicago recruiter: Leah Bye
Lately we've been discussing in our Chicago and Seattle offices the way the workforce is changing, both for employers and employees/job seekers (case in point, Beth's last blog post).  While the job seekers are looking for extra perks in the workplace to engage them, employers also are looking at what job seekers are bringing to the table in addition to their career experience.  Look on any career information site, and you'll see article after article about employers needing to be capable of motivating their employees to keep them engaged and happy. On the flip side, you'll also see discussions that encourage hiring managers to bring on individuals that have inspirational attitudes, are a cultural fit, and can contribute something extra to the team. Obviously, experience is also part of the hiring process, and position details and potential to grow are players in the searching process (but let's not worry about the minor details).
So, with that being said, I thought I'd share a bit about our workplace, how we keep engaged and how I, personally, have wedged my way in so my coworkers will suffer from sugar withdrawals if they decide they don't need me in the office.
Here's a little insight into what it's like at smartdept. inc.:
As you may know, we have "boutique" spaces, both in Chicago, and Seattle. So, making sure that our teams work and interact together well is extremely important. On the work/motivational side, we keep each other in check, we encourage each other to push boundaries when applicable, and we always keep it constructive. On the interaction/frivolities side, you'll occasionally see us at Cubs' or Mariners' games, or the Thai place around the corner. You may even see one of us walking around in our new "Winner's" belt (see Eric's last blog post). Our office competitions might sound silly, but the winner is always rewarded with something special, like pork rinds, which in turn creates a lot of running office jokes.
What I contribute outside of my job description:
Because I'm a narcissist, so why not talk about myself? I've positioned myself as the resident baker (in Chicago, sorry Seattle) – mostly birthdays, occasionally just because, always because I want to make something and can't be trusted to keep it in my apartment. My contribution outside of what I actually do as a recruiter here at smartdept, inc. is that I make treats, hopefully well, and will even put together your own personal stash to take home if it's your special day.  There have definitely been a few guinea pig moments. I'm thankful to have such an accepting crowd (especially Eric, don't tell Michelle).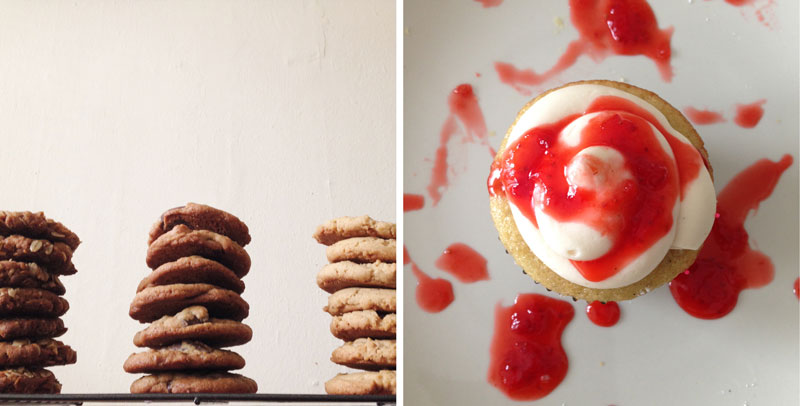 I'm not saying your workplace has to be your everything, but, you do spend an awful lot of time there. So why not be somewhere that keeps you at your best, better than the rest?
– Leah Bye